---
Hunter Horde Beta 1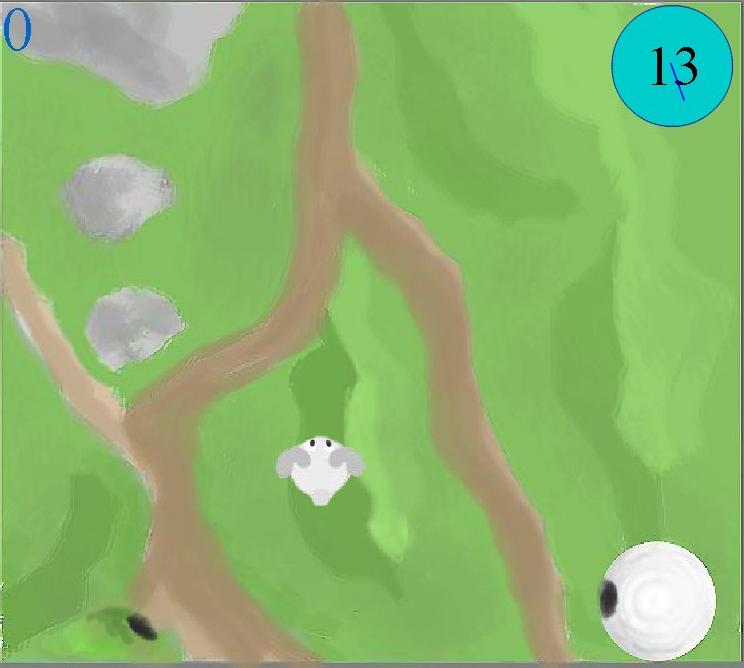 Description:
The Game God's Hunter Horde is a product of Game Jam 2009 which is
a 48 Game Competition that we participated in from the classrooms in
Woodward Hall at UNC Charlotte, North Carolina.
After scrapping our first programming language, Unity 3D, due to lack of prep time,
w e switched to Macromedia Flash to create our game. Our team probably had
the most fun at the completion due to the fact that picked one room to setup
shop, ordering loads of Domino's Pizzas, Chinese food and throwing up an
episode of House on the in-class projector anytime we felt out "code-monkey"
fingers couldn't time another line of "stop();"
The game is an arcade shooter game. It features penguins and bunnies
being shot at random in a pre-winter environment. The object of the
game is to pay attention to which animal is in season at the time.
If you shoot the wrong animal you will lose points. You can find the src
and EXE in the download section, as well as the swf online version of the program.
Download HERE (SRC zip, EXE installer, and SWF online)
---
Red700 Final Version 1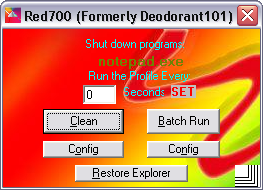 Features:
• An easy way to shut down multiple unwanted applications.
• Batch run, which allows you to run a group of programs at once.
• The option to close and restore Explorer.exe, which runs the desktop and taskbar.
• Disable or enable screensaver instantly.
• Profiles to organize list of program by subject or shutdown.
• A retractable list that shows which programs are open.
• A handy search bar to search Google.com for more information on running programs.
• Easy variables to open profiles from Command Prompt without opening the program Graphical User Interface.
• A Systray Icon that allows background running of Profile timers and quick access to the
Red700 properties, main menu and a variety of other options.
• So small it can fit on a Keydisk or Floppy and never takes

| screenshot 1 | screenshot 2 | screenshot 3 | Clip 1
Description:
With Red700 users can shut down multiple unwanted applications or start a group of programs
at once which allows them to clean popup viruses, prepare for high resource programs, and get
to work quickly. It assists users in closing and restoring Explorer.exe and Disabling/Enabling the
screensave to increase CPU, memory, and Mobile battery resources. Profiles help the user save
and organize lists of programs by subject. A retractable list and Google search makes sure the user
knows exactly what they are adding to the list. A system tray icon allows quick access to program
setting while it runs in the background.